YACHT & MOTOR CRUISER CHARTER

Victoria's largest and most diverse charter fleet.
GIPPSLAND LAKES GUIDE
Explore the southern hemisphere's largest inland sea.
NO LICENCE REQUIRED
Anyone can go boating with Riviera Nautic.
10 Reasons to Charter with Riviera Nautic for your next Holiday
We are one of Australia's most awarded tourism businesses – Australian Hall of Fame Winner!
You don't need a licence to charter a yacht, cruiser or dayboat with Riviera Nautic.
We offer 24-hour support during your charter.
We offer one of the most diverse charter fleets in Australia, giving you a great choice of boats.
We are located just 3.5 hour drive from Melbourne – no flights required.
The Gippsland Lakes are a boater's paradise – safe, soft bottom, no tides or reefs and a huge range of sheltered moorings.
No experienced required – learn from one of the most experienced charter operators in Australia.
The Gippsland Lakes is the largest inland waterway in the southern hemisphere, with our extensive charter limits spreading across the best parts of the lakes, rivers, bays and inlets.
Wildlife, marine and birdlife are in abundance – dolphins, koalas, kangaroos, 140 species of birds, plus so much more.
Value for money – all of your accommodation, transport (including fuel) and entertainment all rolled up in one neat package.
Riviera Nautic Promotional Clip
See for yourself – how will you enjoy your boating holiday?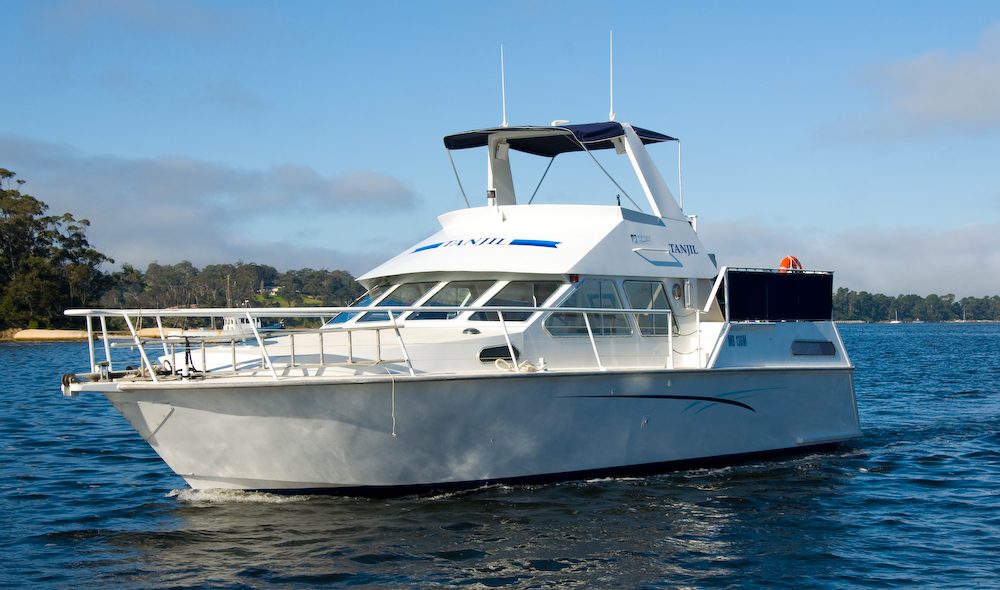 Our Fleet
Charter Terms & Conditions
Weather Forecast
Videos
Gippsland Lakes
Online Navigation Tool by Gippsland Ports
Video Briefing Series
Suggested Itineraries
Weather Radar
Testimonials
Don't take our word for it – here's what our guests say:
Had a wonderful boating holiday thanks to Riviera Nautic. Fantastic service from Cam and the team. Highly recommended!
Haolei, Tanjil 41
May 2022
On behalf of my entire group, I would like to extend our greatest appreciation to Riviera Nautic for helping us with our little getaway last weekend.
Both families in our booking had an outstanding time using the Crusader, jetting around to some different areas on the lake to enjoy some fun watersports. We did everything from kayaking, paddleboarding, jumping off piers and the boat, fishing, swimming and just chillaxing on the beaches and on the top deck of the boat.
Your friendly and professional team delivered an excellent service from start to finish. The wonderful communication leading up to the event made it easy to plan and address our questions and the support and guidance throughout the briefing and whilst away on the trip was fantastic.
We have recommended your company to a number of our friends and we would happily re-book with you again in future.
Again, thank you all for making our getaway so memorable and enjoyable.
Tania, Bulls Mariner 10 
March 2022
We recently booked a 7-day sailing holiday with Riviera Nautic and had the ABSOLUTE BEST time.
We were able to sail our own boat and enjoy the stunning natural beauty of the Gippsland Lakes. Our yacht was well-maintained, clean and super comfortable. I was worried how we'd go with 2 kids and 2 adults on a boat for a whole week, but it didn't feel cramped at all, and it was amazing to dock next to a jetty or pull onto a beach and swim, walk, fish, play and explore to our heart's content.
We got to hang out as a family and spend proper quality time together – sailing during the day and playing board games on the boat at night – away from our usual screens and devices!
The Riviera Nautic team gave us plenty of guidance and were always available to answer questions both before we arrived and once we were on the water.
Highly recommend a boating holiday and with Riviera Nautic, it was so easy and so, so much fun. Thanks RN team!
Johanna, Beneteau 34
Jan 2022
Let us help